Intro
We have all heard of them: Blue apron, Homechef, Plated. The list of companies who deliver prepared ingredients to your doorstep goes on and on. It is both an extremely convenient and very delicious way to receive food. However, there are some questionable practices that these companies use that have caused them to get some flak in the recent past.
Plastics
One of the larger companies, Blue Apron, shipped all of the ingredients, even ingredients that will inevitably be in the same dish, in individually wrapped sealed plastic bags. After cooking your meal instead of having some food scraps and dishes you have a big pile of plastic packaging. We all know the negative effects of overusing plastics and what happens when it doesn't get recycled. According to the National Center for Biotechnology Information "Approximately 50 per cent of (all) plastics are used for single-use disposable applications". Blue Apron and others are playing into this statistic creating unnecessary waste. Granted, they tend to send you the exact amount you need so food waste gets reduced to almost zero. That being said, I find it much more sustainable to compost some food scraps rather than use extra energy in the recycling process for all that plastic. Recently these companies have started shipping like ingredients in brown paper bags all mixed together, so they are moving in the right direction. Blue Apron specifically is working hard to reevaluate its shipping methods and make the system more sustainable by starting a pilot program that reuses the shipping materials.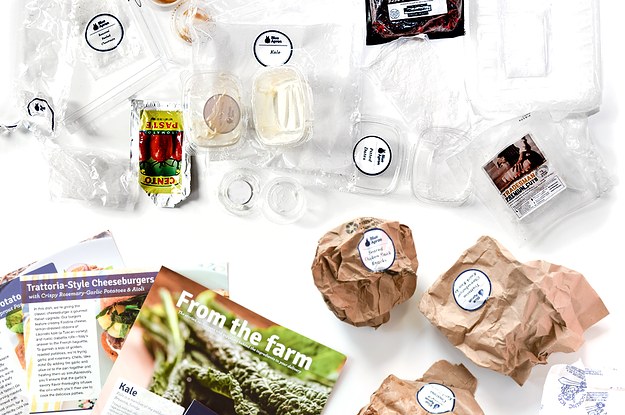 Food Sourcing
Another concern around food delivery services is about where the companies source their food. Some argue there is an environmental impact by adding a middle man that increases transport emissions, allows more time for food to go bad requiring more to be grown, and sourcing extravagant foods from around the world adds a significant amount to the buyer's carbon footprint. While some of this is true, having a delivery service opens the opportunity for eating non-local but still local food. Blue Apron sources from "more than 100 family­-run farms that use regenerative farming practices". This gives people the power to buy sustainably grown crops that were in season whenever they were grown, all year round. Imagine if everyone used this service, we could have an extremely efficient way of getting the right foods to the right people. The term local food could be globalized.
Conclusion
Although food delivery services have grown out of their infancy, they still have a lot of growing and developing to do. It is still a rudimentary system that I think will flourish with the modern food movement. As more people are aware of all the sustainably aspects of their food, not just food miles, services like blue apron and others will cater to these demands. Offering in state grown food only or other more sustainable packages can be a way to get people to transition completely to delivery. I also think this has potential in developing countries on a smaller scale. They shouldn't go through the entire process of figuring out a sustainable food system post development, because we are doing it now, and can apply it to different scenarios. Local farm to table rice deliveries in rural china or food exchanges in Africa are examples of how delivery services can benefit both producer and consumer.
Sources:
https://www.ncbi.nlm.nih.gov/pmc/articles/PMC2873020/
https://support.blueapron.com/hc/en-us/articles/204474907-Where-do-you-source-your-ingredients-
http://www.worldwatch.org/node/6064
http://scholar.colorado.edu/cgi/viewcontent.cgi?article=1708&context=honr_theses